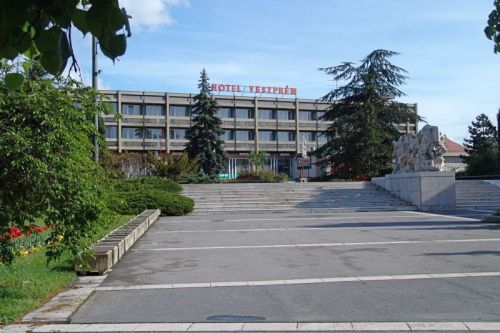 Guests of Hotel Veszprém arrive in a town the history of which begins in the time of the 'Settlement of Magyars (Hungarians) in their today's homeland'. It serves as a treasury of information for those interested in Hungarian history. Following the Settlement of Magyars Veszprém Castle was the residence of the reigning princes' families, as a remembrance of which Veszprém is recorded 'The Town of Queens'.

Works of art representing the history of the town can be found in Laczkó Dezső Museum, in addition to this four more galleries, collections house present and past times' art values. The town is very popular with and frequented by naturalists and hikers.

Szent István (Saint Stephan) Viaduct, built in 1938, spans a 200-metre wide valley. Picturesque 'Betekints Valley' and 'Fejes Valley' are Paradise for tourists. One of the most interesting sights for families with little children is the Zoo. Its new attraction is the Chimpanzee World, completed in 2009, which covers an area of 3000 m2 habitat. Within walking distance is Gulya Domb (Herd Valley) where Hungarian farm animals are on show with sometime traditional, today rare species. Taking a short walk along a nature trail visitors reach two look-out points from where there is a wonderful view over the town and its surroundings.

The town is a base for backpackers and those on tour by bicycle. There is a train service to the Bakony Hill for tourists. A well built cycle track – the starting point of which is in Veszprém - is provided for those who like to ride bicycle. The shortest distance from Lake Balaton is 13 kms. This track passes through the Almádi vineyard and Szentkirályszabadja to Balatonalmádi, where it joins the Balaton cycle track. The 210 km long track around Lake Balaton offers good opportunity for cyclists to take a tour and to explore the country.

Hotel Veszprém is located in the centre of the town thus it is a good base either you are on business or on holiday. Rooms overlook either the main road or the pedestrian precinct. New windows guarantee tranquility to guests. Amenities in the neighbourhood: restaurant, pub, ice-cream kiosk, café, confectionery, show bakery, salad bar, Mc Donald's.